Last year, I submitted my last student loan payment: After seven months, I'd paid off nearly $14,000 of undergraduate debt and saved up a couple months' worth of expenses in an emergency fund. So I focused on increasing my safety net and saving for my upcoming wedding and honeymoon.
Then six months ago, I added a new goal to the mix: I'd started taking classes toward a Master's in Education, and knew getting my degree wouldn't be cheap. I could take out the full tuition cost—$20,000—in federal student loans, but with a 6.8 percent interest rate, that felt too steep. Plus, I never wanted to be that deep in debt again.
So I decided to double-down on my savings strategy and pay in cash as I enroll in classes over the next year. To date, I've banked $12,500. Here's how I plan to hit my $20,000 goal by September.
1. I funnel what I once put toward debt into savings.
When I got serious about paying off my undergraduate loans, I got serious about saving, too—consistently banking about $1,200, or 50 percent of my sub-$50,000 salary, each month. I know that amount can seem nearly impossible, but paying off my debt was so important to me that I was willing to make sacrifices. And eventually it became a habit. So I kept it up even after I finished paying off debt. That initially went toward my wedding costs, travel savings and emergency fund. Now, it's all going to a dedicated grad school savings account.
2. I don't buy if I can borrow.
Remembering my priorities—family, friends, safety and home—has helped me stay on track. So while my partner and I willingly splurge on an apartment in Southern California—it has a pool, gym and night patrol for $1,500 a month—we ruthlessly cut back on expenses like clothes and entertainment by borrowing or renting. And if something doesn't fall under one of my four valued categories, I won't buy it. It's as simple (and difficult) as that.
3. I got a side hustle.
Even though I'm putting away about $1,200 of my salary every month, I still have to bank an extra $800 to reach my goal of saving $20,000 in 10 months—so I picked up a side gig.
Fortunately, I work in digital marketing and content creation, and my skills translate well to freelance writing jobs. After settling on a writing niche, I set up a coaching call with an established money writer, who taught me how to find and pitch clients. Then I created a free online portfolio and started picking up work. I'm now spending 12 to 15 hours per month working with three or four clients, which helps me hit my $800 goal.
4. If I fall short of my savings goal, I get creative to make up the difference.
Sometimes, unexpected expenses pop up, and I can't save the full $1,200 from my salary, or I don't earn $800 from my freelance clients in a month. So whenever I come up short, I find other ways to hit my $2,000 monthly goal. From cashing out my childhood savings bonds for $1,500 to selling my old MacBook for $150 and offloading a used storage bin on Craigslist. My goal's too important to me to leave any stone unturned.

Invest Spare Change with Every Purchase Invest Spare Change with Every Purchase Download Acorns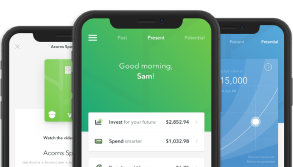 May 17, 2017
f 17, 2017