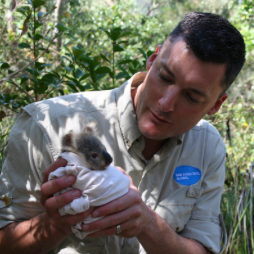 The Animal Keeper
Rick Schwartz, 44, San Diego, Calif.
At the San Diego Zoo, Rick Schwartz works as a zookeeper and animal ambassador. Over the past 20 years, he has worked closely with 60 species of birds, mammals and reptiles—caring for them, advocating for them, and yes, even building relationships with them.
"Each individual animal has their own personality," he says. "When you spend a lot of time with them, you really appreciate each one for who they are."
How he got there: When he was in middle school, Schwartz learned there was a college for zookeepers and animal trainers, and immediately knew that was what he wanted to do. "Animals had been my passion my entire life, so I set my sights there and never looked back," Schwartz says.
In addition to earning a degree in exotic animal training and management, Schwartz gained experience in working with animals by volunteering for organizations, such as humane societies, horse stables, zoos and wildlife rehabilitation centers.
Why it's a dream job: Training and managing animals "is not just cuddling and playing; it's definitely hard work," Schwartz says. "You have to feed them, clean up after them, work with veterinarians and understand biology and zoology. And you have to work even when it's hot, rainy or your birthday; animals need to be cared for every day."
However, hard work that fulfills a personal passion still feels like a dream job. "I love being out here with the animals, and I love talking to guests about the animals," Schwartz says. "That quiet, one-on-one time, just observing and taking care of them is fulfilling. It's a work of passion when you can come home every day with a smile on your face and spend all weekend wondering how your animals are doing."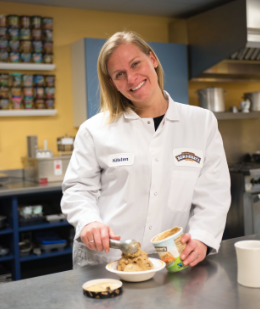 The Ice Cream Taster
Kirsten Schimoler, 30, South Burlington, Vt.
Kirsten Schimoler works as the technical project leader for global innovation in research and development at Ben & Jerry's. Translation: She develops and taste-tests new ice cream flavors.
How she got there: Growing up in a foodie family, Schimoler says she's always loved to experiment with food by creating and cooking her own recipes. And when her family moved to Vermont when she was young, one of the first places they visited was the Ben & Jerry's factory. "It's always been a part of my life," she says.
After graduating with a food science degree from Cornell, Schimoler landed a gig as a food scientist at Unilever. But when her role came available at Ben & Jerry's a year later, she knew it was the perfect move.
Why it's a dream job: What isn't dreamy about eating ice cream all day? "I get to play with food and get paid for it!" Schimoler says. "Every day is different, so it is always exciting and, more often than not, really delicious. I get to make ice cream dreams come true and work with some really fun, passionate people around the world."
She's also not complaining about the extra benefits that come with the job—namely, taking home three pints of ice cream a day, yoga classes and a gym in the office and flexible scheduling—that make it feel even less like work.
"The best part of this job is seeing a product you have developed run in the plant for the first time; seeing 200 pints a minute zip down the line is pretty neat," Schimoler says. "I also love to see consumers in the real world enjoying products I have worked on; it's a really special feeling."
September 27, 2016
f 27, 2016