When I used to think about my honeymoon, I wanted just one thing: luxury. I'd always envisioned a once-in-a-lifetime experience—gorgeous accommodations, beautiful beaches and elegant cocktails—which is how my fiancé and I landed on Hawaii.
The problem? We don't have a luxury-sized budget, and Hawaii isn't a cheap destination. So to make it work, without breaking the bank, I tried my hand at "travel hacking."
What's travel hacking?
It's the process of collecting and redeeming credit card rewards in order to travel for free. Expert travel hackers are known for dedicating a lot of time to their hobby—researching dozens of cards and itineraries until they've engineered a trip to some exotic locale for pennies.
But I'm no expert. Until I learned about travel hacking for my honeymoon, I only owned one rewards card that I rarely used. Plus, we had specific travel dates and times in mind—after my post-wedding brunch on a Sunday in August, which happens to be peak travel season. Without much flexibility, we weren't likely to book free flights, let alone a whole trip.
I zeroed in on one goal: Book as many free nights in luxury hotels as possible.
Many hotel credit cards offer free nights or a large point bonus upon signup. So I set out to apply for the least number of cards for the most complimentary stays. Between October and February, I was approved for four new cards—and a total of 10 free nights.
(It's worth noting that my credit score has held steady at 720, and I always paid my bill in full. I only signed up for cards with minimum spending requirements I could easily hit—wedding expenses helped a lot with that—and staggered my applications so my score wouldn't take a hit.)
Some terms and bonus details have changed since, but here are the four cards that helped me get there:
The Ritz Carlton Rewards Credit Card: With a $450 fee, this card triggered some sticker shock at first. But thanks to a special offer, I snagged three free nights, which I redeemed at the Ritz in Maui, plus a $300 travel credit for airline incidentals.
To hit the $5,000 spending requirement, we charged our wedding venue and food costs—then paid it off with money we'd saved for those expenses.
Cost of Rooms: $2,457
What I Spent: $450
Total Savings: $2,007
Hyatt Credit Card: This card's $75 fee was waived the first year (unfortunately it's not anymore)—meaning I redeemed the two free nights bonus at the Andaz Hyatt for nothing. We met the $1,000 spending requirement by charging regular budgeted expenses, like bills and food.
Cost of Rooms: $972
What I Spent: $0
Total Savings: $972
Fairmont Credit Card: Now discontinued, this free card offered two complimentary nights after spending $3,000—which we satisfied by paying our photographer and videographer—and suite upgrades, which we'll use at the Fairmont Kea Lani.
Cost of Rooms: $1,760
What I Spent: $0
Total Savings: $1,760
Marriot Rewards Credit Card: For $85, this card offers 100,000 points after spending $5,000, which we hit by paying for our flights ($1,400), rental car and other miscellaneous wedding expenses. We used those points, plus $100, to book three nights at the Wailea Beach Resort.
Cost of Rooms: $1,452
What I Spent: $185
Total Savings: $1,267
All in all, we paid $635 for $6,006 of luxury hotel stays—or about 10 percent of the total bill! Not too shabby for an amaueter travel hacker who didn't use a single spreadsheet.
Of course, we had unusually high expenses (and money saved up) associated with our upcoming wedding. Before you sign up for any card, you need to do the math, too. In many cases, one rewards card is enough to pay for itself with free stays or upgrades. And, of course, be sure you can pay the card off each month. If you start charging purchases you can't pay off right away to get points, you'll end up paying for it in interest owed.

Invest Spare Change with Every Purchase Invest Spare Change with Every Purchase Download Acorns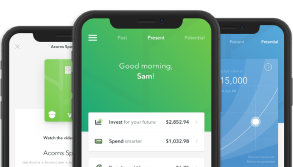 April 14, 2017
f 14, 2017