Putting a ring on it is exciting AF. The music! The cake! The honeymoon! Well, even though planning your financial future together isn't as romantic as selecting your first dance song, it has a much bigger impact on whether or not you live happily ever after.
Not to bum you out, but you've probably heard that money is the No. 1 source of tension in marriages, and a leading cause of divorce. Almost 1 in 4 millennials say financial issues caused their union to fall apart, according to a 2017 MagnifyMoney survey.
[ad 1]
Before you walk down the aisle, check out these must-dos to get on strong financial footing with your partner.
1. Develop a joint budget
Before your eyes glaze over, hear us out. Budgeting is relationship glue. Of those people in the MagnifyMoney survey whose marriages ended due to money problems, 7 in 10 say failure to stick to a spending plan played a part.
Compile your last three months of purchases using a budgeting tool, and review whether you're putting your money toward things that are actually important to you. "Ask yourselves, where do we want our money to take us?" says financial planner Bill Nelson, founder of Pacesetter Planning in Natick, Massachusetts.
First, look at your fixed expenses: student loan payments, rent, utilities, car payments, etc. From there, map out how much to sock away for long-term goals, like retirement or a down payment on a house. Be specific, setting a target sum and date for each goal.
Last, address discretionary spending—clothing, restaurants, and other impulse buys.
"If your budget leaves you with plenty of disposable cash left over, you don't need to worry much about the details of how you spend," Nelson says. "But if your financial situation is tighter, then you need to prioritize."
2. Decide how much of your finances to combine
There's no one-size-fits-all answer. "Some couples live off just one person's salary and save the rest, while others split savings and spending 50-50," Nelson says. "Some assign specific payment responsibilities—for example, spouse A covers bills and utilities, spouse B pays for food.
"What matters is that both of you feel you are on the same team financially, managing your money together at the aggregate level," he says.
Here's a strategy that tends to work well for most: "Set up three checking accounts: an individual one for you and for your spouse, plus a joint account," Nelson says. After contributing to retirement and long-term savings, you should each put 80 percent of your salary into the shared account, to be used for household expenses. The remaining 20 percent goes into your own account to spend however you like.
"There should be no restrictions and no questions asked about how you each use your 'fun money,'" says Kristy Archuleta, editor of the Journal of Financial Therapy and a professor at the University of Georgia.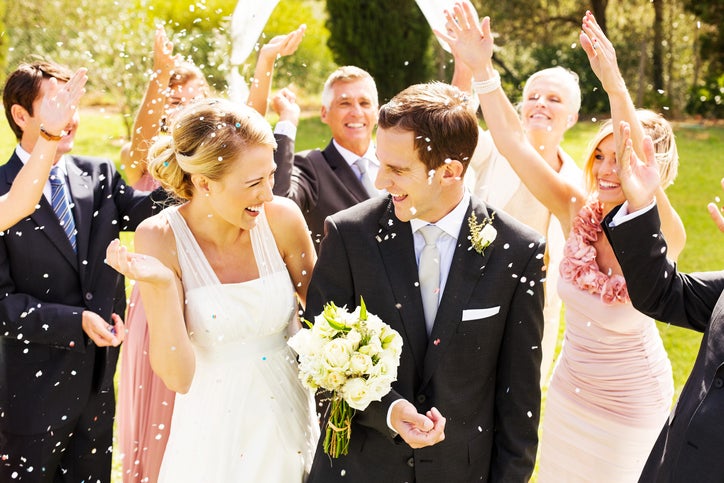 3. Establish a management style
Decide how you'll split money management duties, both so things don't fall through the cracks and to ensure each of your voices are heard. No surprise here: Research confirms that financial communication equals a strong marriage.
"There is typically one person who is more interested or experienced in overseeing the finances, but don't make assumptions—talk about who is going to do what," Archuleta says. "Regardless, if one partner is going to be handling most of the duties, the other still needs to be well informed of what is going on."
To that end, schedule a regular money date every quarter to go through where you stand financially versus where you want to be. "This helps you keep your joint vision top of mind, while also giving you space to evaluate whether your priorities have changed," Nelson says.
4. Consider a prenup
We get that prenups are a buzz kill, but they're on the rise among millennials. It might be a smart move—especially if you have a much higher net worth than your partner, own a business or property, or have kids from a previous relationship and want to make certain your assets will go to them.
So…how should you address this loaded topic? "The unintended message can be that you don't trust your partner," Archuleta says. "Be prepared to explain why you want a prenup, and how your desire for one differs from your faith in the relationship."
An option that won't put you on the hot seat is to pull in a third party. "Tell your partner you want to meet with a financial planner to discuss joint money management," Nelson says. "Communicate to the planner that you'd like him or her to broach the subject of a prenup."
More from Grow:
5. Start a Wedding Fund
Unless your parents are footing the bill, you've probably got some serious saving to do: The average cost of a wedding topped $44,000 last year. "I see a lot of couples rob their other savings goals to fund their wedding, which is a big mistake," Nelson says. "Ask yourselves, 'What can we spend without jeopardizing the other things that are important to us financially?'"
Use an online wedding calculator to come up with a budget, and then divide that sum by the number of months before the big day to see how much cash you need to stash each pay period.
If the total seems reachable by your wedding date, open up a high-yield online checking account to store your funds. But if you can't swing the price tag without swiping your credit card or dipping into long-term savings, scale back your wedding expectations to avoid going over budget.
It turns out keeping your wedding modest is actually good for your relationship. Couples who shell out a fortune are more likely to divorce—perhaps because debt is a major driver of breakups.
Check out 4 Money Moves to Make Before You Move In Together
Get the Grow Newsletter
The best money advice you never got, delivered to your inbox biweekly.
The best money advice you never got, delivered to your inbox biweekly.
April 1, 2019
f 1, 2019