A college education should set you up for a sweet road ahead, from forging lifelong friendships to landing a career you love. But while you may be slaying it in school, are you flunking out financially?
Real talk: If you're clueless about cash flow, a degree will only get you so far. A good foundation of financial knowledge now will help you in your 20s, 30s, and beyond.
[ad 1]
We asked experts to drill down four crucial moves that will earn you a spot on the money honor roll.
1. Minimize Student Loan Debt
The average student graduates with $28,650 in undergraduate student loan debt—that's no way to kick off your future. So while you're still in school, aim not to borrow more than you absolutely need.
First, tap into sources of free money that you won't have to repay, like scholarships and grants. Keep in mind that federal loans have lower interest rates than private ones, and they offer more protections and repayment plan options to ease the pain of tackling the debt.
You could also look into a part-time job or paid internship. But limit the hours to 20 per week, max. "Research shows more than that will negatively impact your grades," says Barbara O'Neill, a certified financial planner (CFP) and financial management specialist with the Rutgers Cooperative Extension. Consider an on-campus desk job that will allow you to study on premises, or getting a gig during the breaks between semesters.
2. Get Savvy About Credit
By the spring of senior year, you should have some plastic in your name to start building credit history—which you'll need later if you want to take out a loan for a car or home. Landlords typically check your credit score when reviewing your application for an apartment, and some employers eyeball it during a background check before extending a job offer.
"It's easier to get approved for a card during college than afterward," O'Neill points out. Before signing up, compare at least three cards to see how they stack up when it comes to interest rates, fees, and rewards.
More from Grow:
As necessary as credit may be, swiping is a slippery slope. A Sallie Mae survey found that only 63 percent of students pay their full balance each month, and 40 percent have made a purchase without enough money to pay the bill. College kids carry an average of four cards, with a combined monthly balance of $906.
To avoid digging yourself into a hole, sign up for just one card. "Then, set a credit line limit to cap the amount you can spend each month," says Levi Sanchez, a CFP and the founder of Millennial Wealth in Seattle. If you ever find yourself unable to cover the entire balance, at least pay the minimum so you won't be slapped with late fees and sabotage your credit score.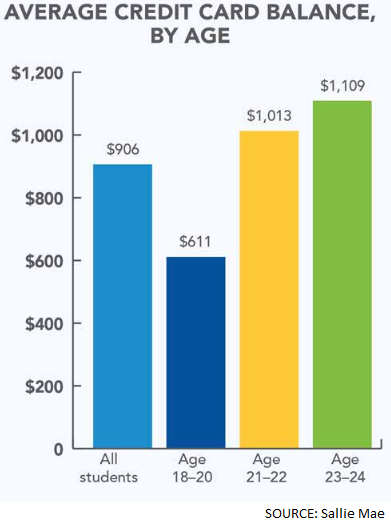 3. Boost Your Money I.Q
Many colleges offer courses designed to give you the 101 on money management. If you have free time in your schedule, that can be a worthy investment. "A financial literacy class will typically cover topics like income tax, credit, budgeting, investing, and retirement and estate planning," O'Neill says.
To find one at your school, check with the financial aid office, reach out to your advisor, or contact the business or human ecology department. Or just do a web search for the name of your college plus some key words like "financial literacy" or "personal finance."
4. Track Your Cash Flow
"You may not have much, but as soon as you graduate, you'll need to understand what's going on with your money on a monthly basis," says Ian Bloom, a CFP and owner of Open World Financial Life Planning in Raleigh, North Carolina. "Now's the time to develop a system."
Link your checking account (yup, you should have one) to a budgeting or personal finance app or software program. Once you've logged a few months' worth of purchases, go through your statements and categorize your expenditures: dining, shopping, travel, etc. "This forces you to think about what you are spending on," Sanchez says.
You'll learn to distinguish wants from needs and make sure your buys are really worth it—setting yourself up to ace the real-world, post-graduation test of balancing a budget.
Check out 5 Money Moves to Make When You Land a New Job
Get the Grow Newsletter
The best money advice you never got, delivered to your inbox biweekly.
The best money advice you never got, delivered to your inbox biweekly.
March 15, 2019
f 15, 2019