There's an unusual event going on in the labor market that could be the ticket to your next raise or promotion.
We're talking about a labor shortage, a relatively rare situation in the U.S. in which there are more open jobs waiting to be filled than there are workers or job-seekers willing to take those jobs. The Labor Department observed that imbalance last summer for the first time since it began tracking job openings in December 2000.
Now, the unemployment rate just hit a 50-year low, with the Labor Department reporting last week that joblessness fell from 3.8% to 3.6% in April. This is a stark reversal from what was happening during the Great Recession and recovery, when the rate of unemployed consumers briefly reached 10%.
[ad 1]
"People should be feeling good," says Kate Warne, an investment strategist at Edward Jones. "When you look back at 2009 or 2010, the unemployment rate was in the double-digits. Now...it's hit a new low."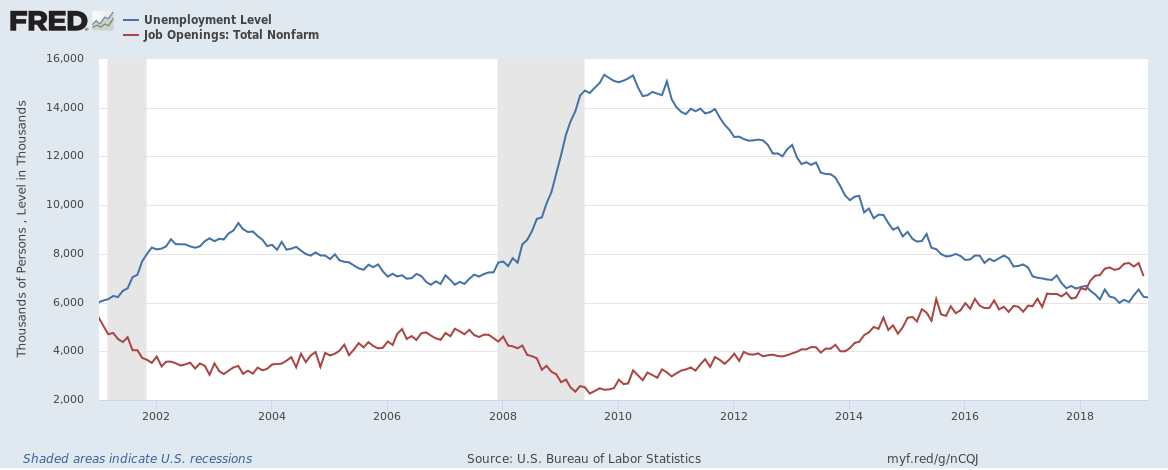 The labor shortage benefits workers
For several years, people were desperate for jobs—any jobs, for many. Employers could be extremely picky about who they would hire, and could often find workers who were willing to work for lower wages. But now, with more openings than applicants, employers have an incentive to raise wages and improve benefits to retain talent and attract new workers.
"Many companies are evaluating their benefits packages and culture to stay competitive," says career strategy consultant Janet Matta.
"It's a great time to do some evaluating and negotiating in your current role," she says. "Your company might be more open than ever to longer parental leaves, other types of leave like volunteering leave or unlimited vacation, remote work and flexibility, and increases in equity or base salary."
Stay alert to seize the opportunities
Being aware of what's happening in your workplace or specific industry is the first step to getting a raise or otherwise improving your standing. For example, your company may be in dire need of more workers, or there may be an opening for a higher-level position. These can be opportunities to negotiate for a raise or angle for a promotion.
More from Grow:
"Keep an eye on the job market just to maintain awareness of hiring trends, job title, or job content changes and requirements in your field, so that you can remain competitive when you do want to make a change," Matta says.
"If you've been in your job for a long time," she adds, "then this is a good time to look for a new role, to maintain some resiliency and freshness in your career and skills."
Scoring a raise comes down to four key steps, two before you ask and two during your big meeting with the boss:
The path to a raise starts with gathering your evidence—including a list of your achievements and estimates of fair compensation. Then, set up a face-to-face meeting with your boss.
Now it's time to make your case. And once you've asked, be prepared to follow up on the results.

Check out Don't Miss This Often Overlooked Way to Boost Your Pay by As Much As 37%
Get the Grow Newsletter
The best money advice you never got, delivered to your inbox biweekly.
The best money advice you never got, delivered to your inbox biweekly.
May 6, 2019
f 6, 2019