Having a carefully planned budget isn't just important for us individually, it's crucial for America, too. Last month, President Trump's administration released its proposal: "America First: A Budget Blueprint to Make America Great Again." While it's unlikely to pass through Congress as is, the draft does tell us a lot about Trump's priorities.
What does Trump's budget look like?
Very different from what we have today. While mandatory spending—which includes Social Security and Medicare—isn't addressed, the proposal suggests huge hacks to discretionary spending.
Under his proposal, 19 agencies face elimination, including the National Endowment for the Arts, Legal Services Corporation and Corporation for Public Broadcasting (sorry, Mister Rogers). Next in line for the steepest cuts are the Environmental Protection Agency (31-percent reduction) and State Department (29 percent). The Department of Health and Human Services gets hit particularly hard dollar-wise with a $15.1 billion cut.
These reductions are meant to offset a dramatic increase in defense spending to the tune of $54 billion. Homeland Security and Veteran Affairs would also get bumps of $2.8 billion and $4.4 billion, respectively. The majority of new funds for the former would go toward the border wall. (Yes, that wall.)
Will this make America great again?
Who can say? Many budget hawks welcome the belt-tightening, and military supporters praise the proposal, calling the increase in defense spending important for strengthening our nation.
Others—in particular, directors of the slashed programs and many Democratic (and even Republican) lawmakers—reacted much less positively: House Minority Leader Nancy Pelosi called the budget "a slap in the face of the future." Republican Representative Harold Rogers called many of the cuts "draconian, careless and counterproductive."
Does this affect my budget?
It could, especially if you're a parent or student. For example, the proposal cuts $9.2 billion (14 percent) from the education budget—eliminating funding for after-school and summer programs, and significantly reducing funding for the federal work-study program for college students.
Other cuts include $4.2 billion for community service programs and a significant number of federal job losses (3,200 positions at the EPA alone), which could have a broader effect on the job market.
How about my investments?
"The market likes the things that Trump is proposing—the general sense is that it's good for corporations, business and the economy," says Bradford Pine, a wealth advisor in N.Y. "But it has to be executed."
And there's the rub. The uncertainty about whether Trump can overcome continued pushback from both parties on his proposals may give investors pause. In fact, the Dow and S&P 500 have been down since Trump's proposed budget was revealed in mid-March. On the bright side, Pine says, "When the market's down, those are the best times to buy."
What will the final budget look like?
That's not clear yet. There will likely be cuts to many of the programs Trump singled out, but it's unlikely they will be as deep as he proposed. Funding for the current fiscal year runs out at the end of this month, so to avoid a government shutdown Congress must at least pass a temporary spending measure by then, which should offer more insights. But with both the House and Senate on break until the week of April 24, expect more speculation—and market volatility—in the meantime.

Invest Spare Change with Every Purchase Invest Spare Change with Every Purchase Download Acorns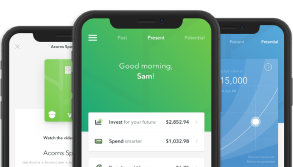 April 11, 2017
f 11, 2017